Zipjet is Europe's leading on-demand laundry and dry cleaning service, operating in London, Paris and Berlin. Richard Gozlan is the Global Head of Operations of the growing startup. 
We caught up with him in between his city-hoppings to talk about:
How he oversees the Operations team across three cities
Why one of his first goals was to find the right tool to share processes
How he implemented Slite
Three cities: many strengths and opportunities

Richard told us it's an exciting time for Zipjet as it expands in three major European cities. He also explained this expansion shed a light on a missed opportunity in the Operations team: all three cities had their respective expertise but weren't sharing or learning from them. Instead, the cities were acting as micro teams within a bigger team.
At a time when the operations-heavy startup is scaling, Richard felt that for the team to be successful, it was crucial they optimize and capitalize on their respective expertise.
"All three cities did their own thing without sharing knowledge or findings. Mostly because there was no dedicated place to do so. So, Berlin would create a process from scratch instead of learning from Paris, for example. One of my main goals is to capitalize on the different cities' knowledge and experiences," Richard explained.
He gave us a concrete example of this: he noticed London was nailing one of their processes, "Shift Leading" (checking that the driver is on time for a delivery). Paris and Berlin should have benefited from London's best practices but there was nowhere to share or find them.

From different processes to optimized operations

So what did they have in place? Up until last fall, Zipjet's Operations team was using a 150-pages pdf file that was a "bible" containing all their knowledge and processes. When someone joined the team, they would flip through it as part of their onboarding and a lot of the information was city-specific.
The first thing Richard noticed was that lots of the information in those 150 pages was obsolete. Then, he realized the obsolete information couldn't be edited: there was no history of the doc's versions and no way for everyone to pitch in. He was sure there was a better way to centralize the huge amount of knowledge that his Operations team was generating. "Not to mention that when 150 pages of PDF is the first thing you give new hires, it can be pretty daunting!", Richard added.
So, he started looking and asking around for a tool that allows teams to write, organize and share important knowledge and processes. Via word of mouth he stumbled across Slite. That's when he started to merge the "bible" into channels and notes. His job was two-fold: update obsolete information and create a structure encouraging London, Paris, and Berlin to share knowledge by creating cites-wide channels such as "HR", "Customer care", etc.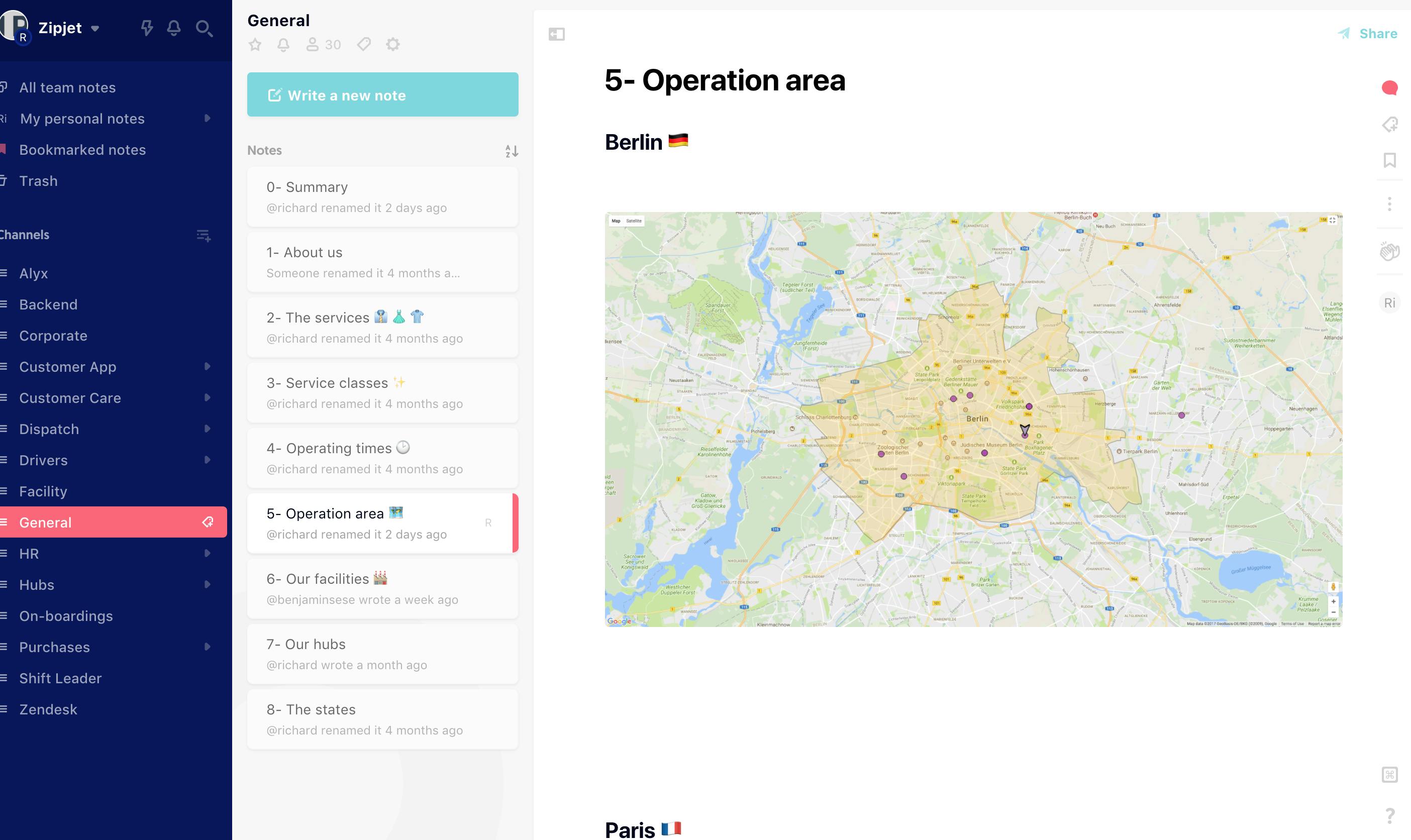 All their onboarding docs in one channel.
Check out free employee onboarding templates📝
"It's much harder to scale in three cities at the same time. I believed Slite would make it easier and become a place where everyone can contribute naturally and capitalize on each others' knowledge," Richard told us.
One of the first times he noticed Slite was making a difference was part of his team created the "Dry Cleaning" note and people from London, Paris and Berlin all chipped in, building the process together, despite the different locations. Increasingly, processes are homogenized and no longer strictly city-based.


Choosing collaborative tools to influence their team culture

For Richard, choosing the right product to change the way Zipjet's Operations team was collaborating was crucial. From the onboarding of new hires all the way down to giving their customers the best experience.
Each new employee joining the Operations team has a collaborative checklist in Slite of everything they should be learning on their first days, linking to relevant notes and tutorials. With this new onboarding system in place, Richard has noticed new hires are more willing and proactive to onboard rapidly than if they're expected to flip through an endless pdf.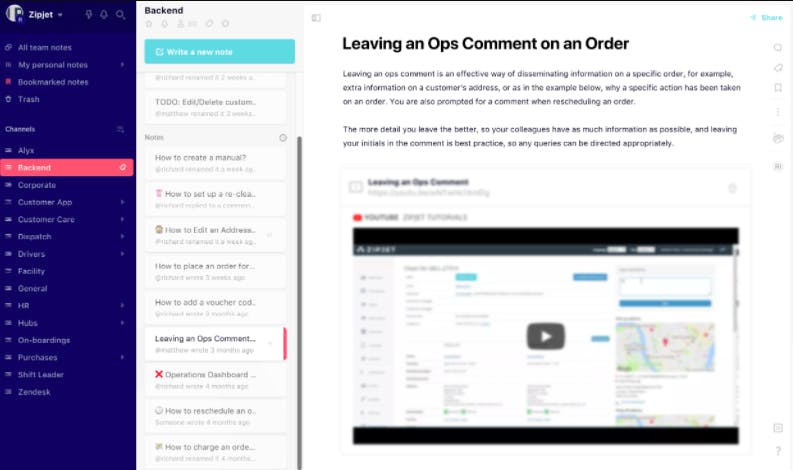 Their video tutorials available for all cities. 
Check out free playbook templates for your team 📝
More generally, Richard believes that using user-friendly tools have a deep impact of the way your team works and the value they produce. He put it very well: "How can you expect to build a great product for your customers if you're not even using great products to work with your team?" We couldn't agree more.