Hiring new staff is usually a reason to celebrate. The company is growing, adding new skills, and you're bringing exciting new talent into the team. And yet, nobody particularly enjoys the process. It's tiring going through interviews and reading resumes, and it tends to be a relief when it's all over. Both for the company and the candidate.
That feeling can be a trap. It's tempting to feel that the work is all over. But the next month or so is critical. You need new team members up to speed as quickly as possible, and ideally without costing the whole organization too much time.
It's not easy. So to help, we've put together this 4-step process. It looks at the key phases for new employees, and what you can do to make their new job feel like home. 
1. Before they start: create templates and checklists
Good onboarding needs to be consistent. Whatever the job description, each new team member should have roughly the same experience as their peers. 
At the same time, it's important that each team has some ownership over onboarding its new members. Certain details will need to be tailored depending on the job description or business unit involved. 
The simple trick here is to create templates for each team to customize. Find a basic structure for workshops and onboarding guides to follow, and have your teams work from these. 
For example, here are sample onboarding checklists, including pre-start checklists. Give your teams the right format, and the whole onboarding process becomes much smoother.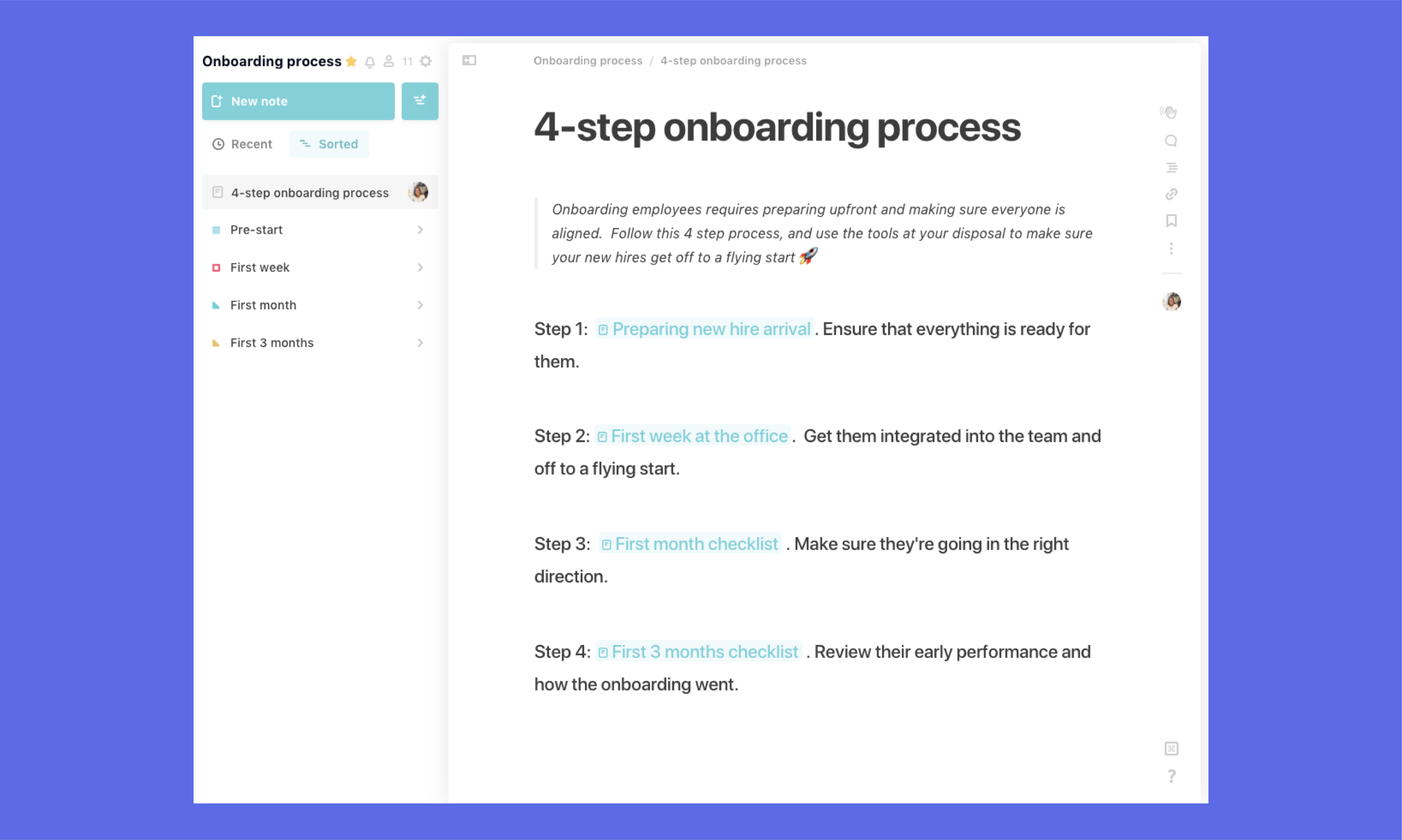 2. The first week: make information easy to find
The average employee spends 19% of every work week just trying to figure out how to complete tasks. That's not just new employees - it's the average! 
Your best bet to combat this issue is a good company wiki or knowledge base. The trouble is, someone usually has to be in charge of writing and maintaining the thing.
The only real solution to this is to start the project as soon as possible, and ensure that staff keep it updated. And the good news is that with Slite, this is really easy to do.  You can create your wiki as you build the business as part of your day-to-day work.
Otherwise, you're looking at the prospect of writing down every important process for the whole company at once - months of work.
All the information in one place can save everyone the embarrassment of asking seemingly basic questions all the time. It also helps to future-proof the company against the possibility that individuals start doing things their own way, leave, and this knowledge is then lost to the business.
For a head start, check out the First week template we've assembled.
3. The first month: give them the chance to prove themselves
Without a doubt, the best thing you can offer a new employee is a workbook for their first week. They start with a series of empty checkboxes and unanswered questions, and by the end of the week it's full. 
Every new hire wants to perform. So in the first month or so, it's important to give them opportunities to contribute. 
Create tasks and challenges, and let them come away from the first few weeks with a real accomplishment. For instance, new developers at Slite get to push their first lines of code live on day one.
Some companies go further and actually have new hires "graduate" from their onboarding process.‍
This might involve a test or a simple live presentation. Just note that these options may feel a little more "pressurized," which won't suit every employee or company culture.
But the possibility to show off their skills is so much more powerful than asking them simply to listen and take notes. And when they're done, they know for sure that they're one of the team.
This is also an essential time to clarify the role they're stepping into, and to make sure everyone's on the same page. Do this early and often, and you won't run into trouble down the line.
For templates on how to manage the first month, head over here.
4. The first three months: seek feedback often
If you've been with the company since the start, chances are you yourself were never formally onboarded. So even though you may think you know what it feels like to join the company, you haven't exactly been in those shoes.
You can plan well and strive to create something special, but the only way to make sure you've achieved this is to ask new hires for their thoughts.
You already knew that. And of course you check in to make the onboarding is going well, and they have everything they need. 
But here's the thing, there's a roughly zero percent chance that a new employee will honestly tell you how they feel. They're new. They just went through a potentially gruelling hiring phase, and they're trying to make the right first impression. 
Which means you have to get serious about asking for feedback. And this needs to be baked into the onboarding itself. 
What does this look like? Here are a few suggestions:
1. End the first month with a quick survey

Ask the new employee to reflect on what they've learned so far and give their thoughts. It's always best to do this while the experience is fresh. 
You'll easily be able to see which aspects of the day they most enjoyed, whether they feel like they're getting the hang of things, and whether you prepared enough resources. 
Note: If you don't want to create more work for yourself, build the survey around a simple 1-5 scale or a 1-10 NPS-style survey. You'll know quickly which areas are consistently scoring poorly, and should be changed.
See our employee feedback template here.
2. Make time for one-on-ones

We're all a little cautious of meeting fatigue. But it's unlikely to set in at the beginning of a new role. So you can risk an extra face-to-face in the first few weeks, especially if it'll strengthen the relationship.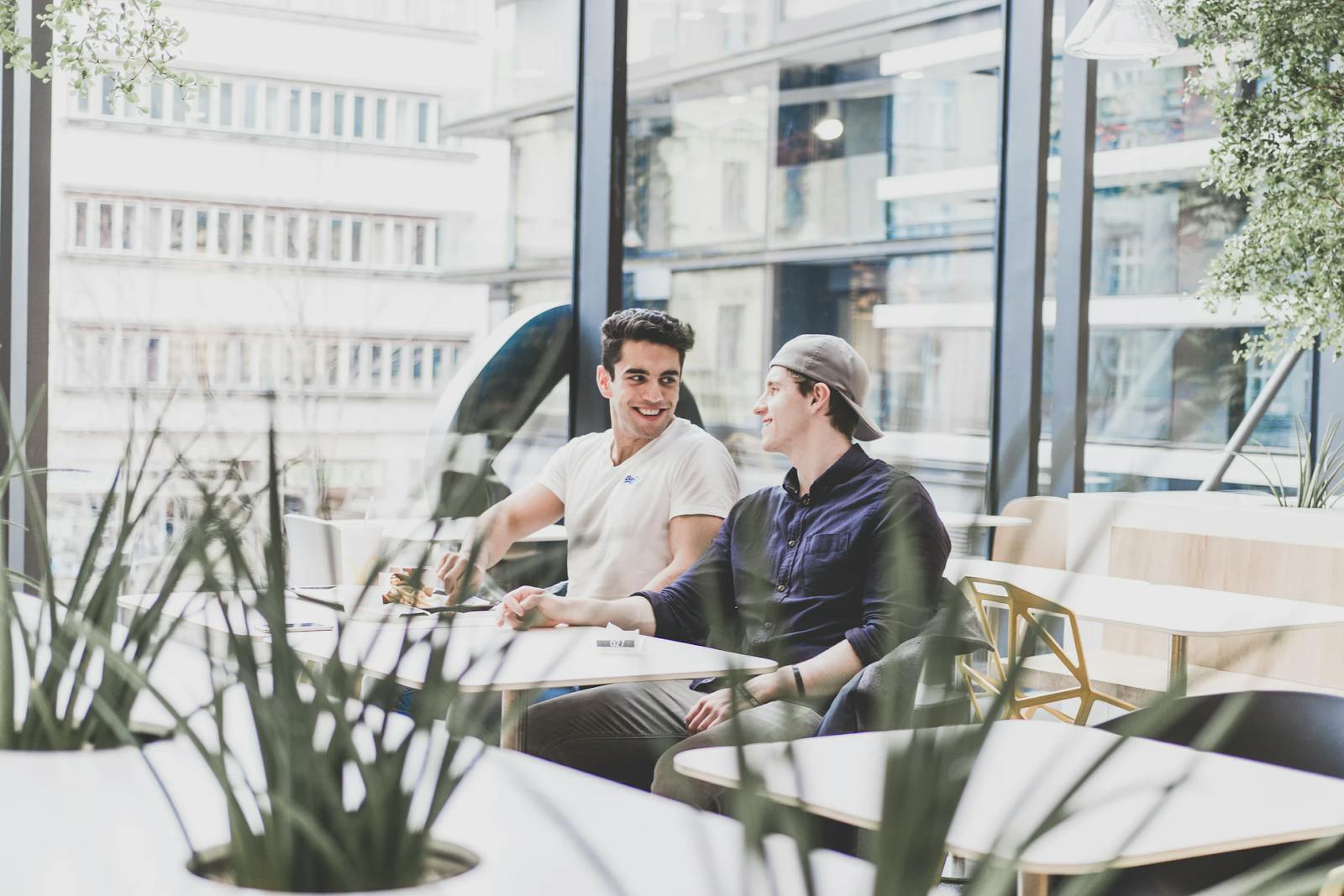 Make sure the new person knows that you'll want feedback, and encourage them to keep notes along the way. This gives the meeting a clear purpose, and gives them something achievable to work on throughout the week(s). 
A lot of employee onboarding can feel passive - just listening to endless presentations or reading countless notes. When you can give someone small wins along the way, it helps. 
More importantly, the feedback you receive will have been thought through, and hopefully the better for it.
3. Don't forget the suggestion box
Your business should have an easy, anonymous way to give feedback. This could be as simple as the classic suggestion box somewhere in the office. 
Slack bots are another, more modern option. Officevibe is one such choice - it lets employees answer a quick survey each week, semi-anonymized. Staff can answer questions when they have time, and managers can respond directly if appropriate. 
One happy side-effect of this is that the new employee learns how to give quality feedback from day one. 
Check out the first three months checklist template to get a head start.
Start paying closer attention to the employee onboarding experience
Not every office should be Zappos or Google. You likely don't have the time or resources to really roll out the red carpet for every new team member. 
But this doesn't mean you can ignore the employee onboarding process.
A few golden rules to remember: 
* Onboarding needs to be consistent
* You can never be too explicit about anything: be very clear about what you expect
* Create clear goals for each new hire, and review these frequently
* It should be able to be administered by almost anyone in the team - not only you
* New employees should feel that they've achieved something on day one, week one, and month one - not just relieved to move past the boring stuff.
Keep these in mind, and you'll be able to design the perfect process for your business.